Hello Geeks!
I'm not sure if you know this but I happen to really like anime, and for this edition of Geek Life, I'm going to tell you a little bit about one of my new favorites: Food Wars!
Before I begin giving you a short synopsis of the show, let me warn you about something: Food Wars is a litttttlee over the top, but, if you can get past the first three episodes of ridiculousness, you're golden.  Also, don't watch it around little kids or grandma–there's a ton of suggestive themes.. SUPER Suggestive Themes. For example, people's clothes blow off because the food is so amazing, yep. Its a thing.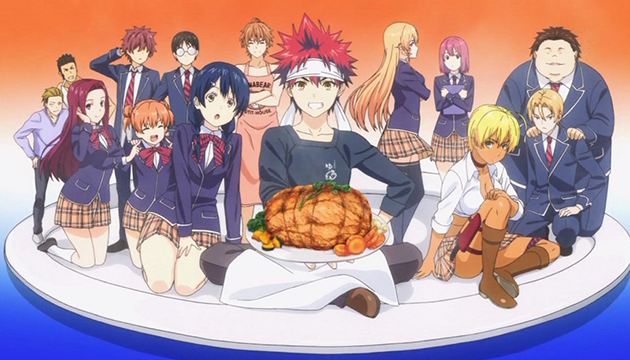 Food Wars  takes place in modern day Japan and the main character goes by the name Yukihira Soma. His dream is to run his family's diner and ultimately become a better chef than his father. His father, knowing Soma's potential, sends him to a prestigious Japanese Culinary school to hone his skills. There, he meets tons of colorful characters each having their own strengths and weaknesses. Besides the ridiculousness, I love how they show you what techniques go into making a particular dish and they break down the ingredients and explain how they got to the end result. This is a feel good anime and it always leaves me wanting more and starving. The serialization of Food Wars started in Japan in 2012 and Is still running. The anime started back in April and it airs on Crunchyroll every Friday. There's currently about 21 episodes on Crunchyroll, so binge watch in your leisure.
Cheers!
Keep up with The Geekiverse on Facebook, Twitter, and Instagram (@The_Geekiverse)!